Description
For more videos check our D-Eye Playlist
Latest independent review: Researchers examine viability of smartphone tool for vision diagnosis
—–Update April/2017 —–
Updated App to Version 2.1 with:
ImageSelect – Now you can select specific frames from 30 second recorded videos and save as individual images
Share and Save – Share a PDF report to your LAN (Network share) directly to your PC (no cloud neccesary) – HIPAA compliant
Medical Applications
The D-Eye application in medicine goes beyond ophthalmology, currently being used in veterinary and other specialties. D-eye is used to conduct eye examinations and screening anywhere for detection of a variety of disorders:
No need to use dilating drops to see optic nerve (for certain conditions, see PDF download at the end)
Neurological disorders associated with the eye
Children's friendly as no dilation drops are necessary
Examination of bed-ridden patients
Emergency room exams
Before / After pictures review to patients and family.
Main Features
Up to 20 degrees field of view (w/dilated eye)
No need of external power or lighting
Perfect for remote areas and sharing through the web
Non-invasive
Corneal glare is non existent
High Definition Images
Video recording
App allows recording of patient's information
Optional private storage in the Cloud.
Apps for iPhone and Android available
Step by Step Instructions
Using D-Eye can't be easier. Follow this easy to follow instructions
Download the App for your iPhone
Setup the mounting bumper and fundus lens on your smartphone
Create new file (on the app) if new patient
Focus the camera as you would do in a normal picture and start recording
Using Filters with D-Eye
In our version 2.0 of the FREE APP we have implemented a variety of new options and filters:
Zoom
Focus
Light (Flash intensity)
Mask
Exposure
Contrast
Brightness
Gamma
RGB (red, green, blue filters)
Saturation
Wb
For example, to apply the Blue filter using the RGB filter in the app:
start an examination
open the exam settings (the gear on the bottom right corner)
slide the control to the right till RGB
open RGB
here you can change the balance of the colors. A typical exam is to remove the G and B channel keeping only the R channel.
What's included with the D-Eye Portable Ophthalmoscope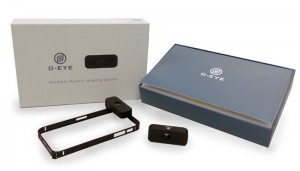 The D-eye Portable Ophthalmoscope includes:
iPhone Bumper (Surrounding holder)
D-Eye Lens System
Quick Guide
Free App download from App store.
Applications outside Ophthalmology
Retinal Photography as a wider field of practice beyond Ophthalmology. Here is a brief list of other fields:
Internal Medicine

Retinal micro-vascular abnormalities and cardiovascular disease

Neurology

Cognitive impairment
Stroke

Emergency Department
Telemedicine
Based on National Library of Medicine
Additional Information
D-Eye Outshines Traditional Ophthalmoscope
D-EYE Direct Ophthalmoscope_Brochure