Portable slit lamps have come a long way in the last few years. They are not manufactured anymore from low-quality plastic and lens.
Now you will find a refined, durable, and high-quality lens in their place with options of LED illumination or even full-color screens.
Illumination control and slit width are standard, and they weigh almost nothing. Perfect for applications in remote areas or bed patients and children.
Here we examine 3 options you should consider for your next hand-held slit lamp.
Ultra Portable Slit Lamp S150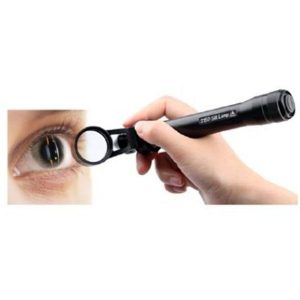 This slit lamp is an excellent tool for examination on children's bedsides, ER, or quick screening.
It features a low-heat LED lamp with high brightness and more than 3 hours of battery. It is the world's first and only portable slit lamp that applies a LED illumination system. The main advantage of using LED is no glare and a clear image.
It is very comfortable for the patient due to the low heat, and the sharp slit will give you the same quality as a desk slit lamp.
The LED lamp used in the S150 will last up to 20,000 hours at full power, which is 10 times more than a normal halogen lamp.
Click here for more info on the S150
Portable Slit Lamp with a Smartphone adapter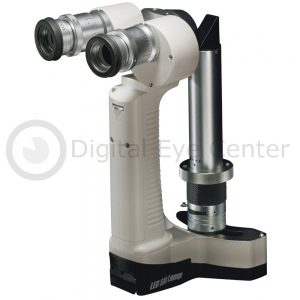 This is the classic hand-held slit lamp, lightweight and single-hand operated.
It works similarly to a desktop slit lamp, ideal for a mobile hospital, pediatrics, seniors, or nursing home.
Does PD Adjustment, comes with 3 filters (green, cobalt blue, and heat absorption), illumination control, and a 2 hours rechargeable lithium battery (continuous operation)
Includes a smartphone adapter, case, and accessories.
Click here for more info on the Portable Slit Lamp
Digital Portable Slit Lamp HSL-600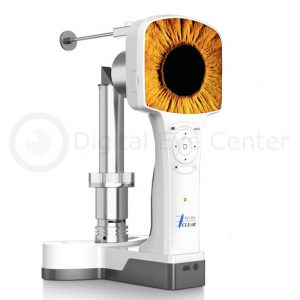 The newest digital slit lamp is perfect for capturing high quality 2 mpx pictures for a better screening and diagnosis.
Mostly using for bedside diagnosis, remote medical screenings and rapid screenings.
You will be able to transfer easily the 2 mpx pictures to your PC using the slit lamp WIFI hotspot or through the 8 GB SD Memory.
With 4 hours or continuous operation, a weight of 1 lb and a bright 3.5 inch color screen, there is nothing like it in the market.