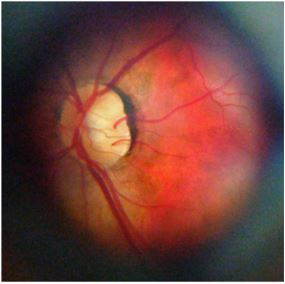 Comparison of Smartphone Ophthalmoscopy with Slit-Lamp Biomicroscopy for Grading Vertical Cup-to-Disc Ratio
D-EYE, a leading developer of advanced devices for mass health screenings and data analytics is pleased to share the publication of a study comparing the D-EYE Ophthalmoscope  with slit lamp technology.
As indicated in the September 2016 issue of the Journal of Glaucoma, a study was performed to determine the agreement between D Eye ophthalmoscope  smartphone-based retinal ophthalmoscopy and slit-lamp indirect biomicroscopy when assessing vertical cup-to-disc ratios.
One hundred and ten undilated patients participated in the study, some with ocular hypertension and others with primary open angle glaucoma.

The study concluded that D-EYE showed substantial agreement with slit-lamp examination for the estimation of the Vertical Cup-to-Disc Ratio (VCDR).
"The ubiquitous diffusion of the smartphones, together with their connectivity and portability features, enables an extensive benefit for this technology to be used in glaucoma screening,
especially in low-resource settings." (1)
The full study is available for Journal of Glaucoma subscribers at this link:
http://journals.lww.com/glaucomajournal/Abstract/publishahead/Comparison_of_Smartphone_Ophthalmoscopy_With.98901.aspx
(1)Russo, Andrea MD; Mapham, William MD; Turano, Raffaele MD; Costagliola, Ciro MD; Morescalchi, Francesco MD; Scaroni, Nicolò
MD; Semeraro, Francesco MD. (2016). Comparison of Smartphone Ophthalmoscopy With Slit-Lamp Biomicroscopy for Grading Vertical
Cup-to-Disc Ratio. Journal of Glaucoma, 25(9), 777-781.