Description
–> Latest Article from Helio – Diaton tonometer yields IOP readings without corneal contact
The Diaton tonometer is the only one in the market that measures the intraocular pressure through the eyelid.
This unique methodology provides a new level of simplicity and safety of tests.
Diaton tonometer is a hand held non contact tonometer device measuring IOP through the eyelid and over the sclera with no contact to the cornea & causing no discomfort to the patient.  This  tonometer masures IOP within seconds without the need for anesthesia or sterilization.
Transpalpebral scleral tonometry has no other  alternative in the world. It is the best method to carry out preclinical medical research of the population and works in complicated clinical cases when it is impossible to use classical tonometry methods.
Diaton is a helpful tool for ophthalmologists faced with pediatric patients or who have corneal abnormalities such as corneal edema, erosions or keratoprosthesis.
Approved by the FDA in 2006, this instrument has been the subject of numerous clinical trials, where it has been found to be comparable with the gold standard, the Goldmann tonometer, and with many other devices.
It's a safe & easy-to-use screening tool which makes it possible to identify patients at risk for glaucoma & refer them to ophthalmology.
Over 4.5  million people all over the world are blind due to glaucoma and this number is on the rise.
Due to the silent progression of this disease, the majority of the infected people do not even suspect they  have this disease.
The rise of IOP is one of the main factors that indicate glaucoma presence. And now, we present a safe & easy method to measure IOP that can detect glaucoma at its early stage and as a result will help to save patients' eyes.
Compare the features of the Diaton tonometer with the most popular products in the market: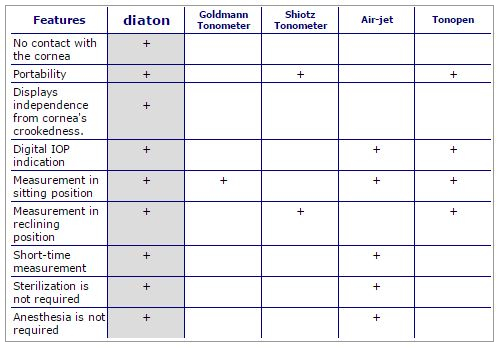 Diaton Tonometer is ideal for:
Screening examination
IOP control to select medicines
IOP measuring for conjunctivitis, erosions, edema and cornea dimness
IOP measuring after corneal surgeries
Immobilized patients
Children
Contact correction. No need to take out contact lenses
Fields of application:
Optometry
Ophthalmology
General Medical Practice
Neurology
Additional Information