Description
Specifications of the Canon CR-2 AF NM Fundus Camera
The Canon CR-2 AF Digital Retinal Camera is designed to help you consistently capture and analyze truly superb images—quickly, efficiently, and automatically. Designed around the legendary Canon EOS optics and advanced CMOS image capture technology, the CR-2 AF Digital Retinal Camera provides a remarkable set of advanced features specifically designed to enhance, capture, and analyze all fundus images.
Dedicated Digital Camera
The CR-2 AF incorporates Canon EOS technology to provide optimal images under just about any condition.
With Auto Exposure, Image Error Detection, Quick Preview, and Low-Flash Intensity, the CR-2 AF delivers ultra-high-resolution images. Each stunning, 20.2-megapixel image has extraordinary detail, contrast, and color fidelity.
Ultra High-Resolution Fundus Image
The CR-2 AF Digital Retinal Camera delivers stunning, high-resolution images—among the highest resolution available in any digital retinal camera today—with extraordinary speed, detail, contrast, and color fidelity.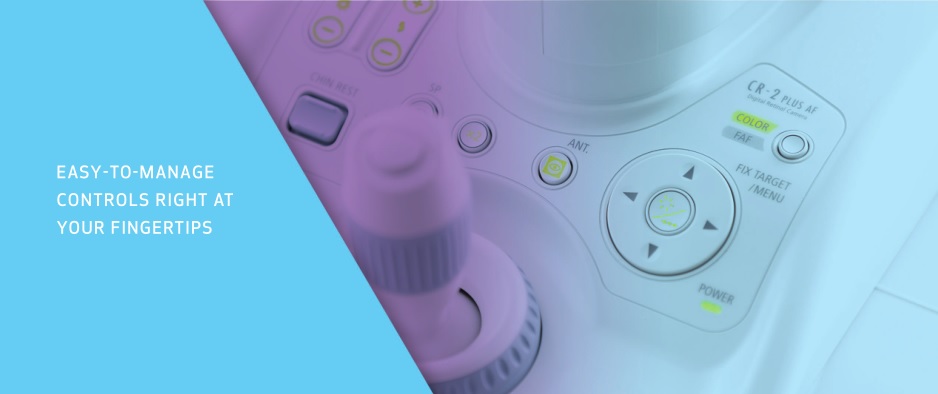 The Canon CR-2 PLUS AF Digital Retinal Camera is extremely flexible and comes with a comprehensive set of standard features designed to help you quickly capture and analyze data. Some of the camera's more notable features include: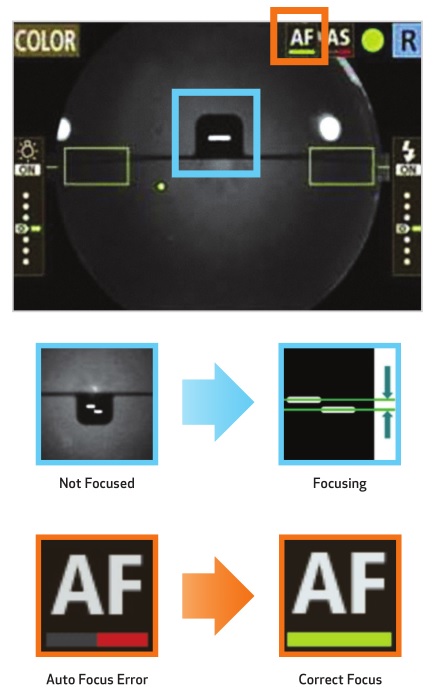 OPACITY SUPPRESSION – Selectable filter tool that enhances image clarity when imaging those patients with cataracts or opaque media
CONTRAST ENHANCEMENT – Affords increased image clarity by emphasizing the differences in "redness" and "brightness" of blood vessel structures relative to their surroundings.
AUTO-FOCUS WITH MANUAL ALIGNMENT OVERRIDE – Automatically focus the eye by partially depressing the joystick, or easily switch to manual focus with a twist of the focus ring
AUTO-FUNDUS – Automatically switches from the external eye to retinal observation mode when the eye is properly aligned.
AUTO-CAPTURE – Automatically captures the image once the eye is properly focused.
AUTO-EXPOSURE – Automatically measures the volume of infrared light at the retina and adjusts the flash intensity.
IMAGE ERROR DETECTION – Advanced software automatically confirms both correct alignment and focus.
LOW FLASH INTENSITY – Low flash increases patient comfort and reduces miosis for a faster exam. The CR- 2 PLUS AF supports a wide range of low ISO speeds, including ISO 200/400/800/1600/3200/6400
ADVANCED DIGITAL IMAGE FILTER PROCESSING
The CR-2 AF Digital Retinal Camera produces ultra-high resolution, 20.2-megapixel, wide-angle views with excellent color, detail, and contrast. To further enhance your retinal
exam capabilities, the CR-2 AF has a full set of blue, green, red, red-free, and cobalt digital processing modes to extract more in-depth information from each image.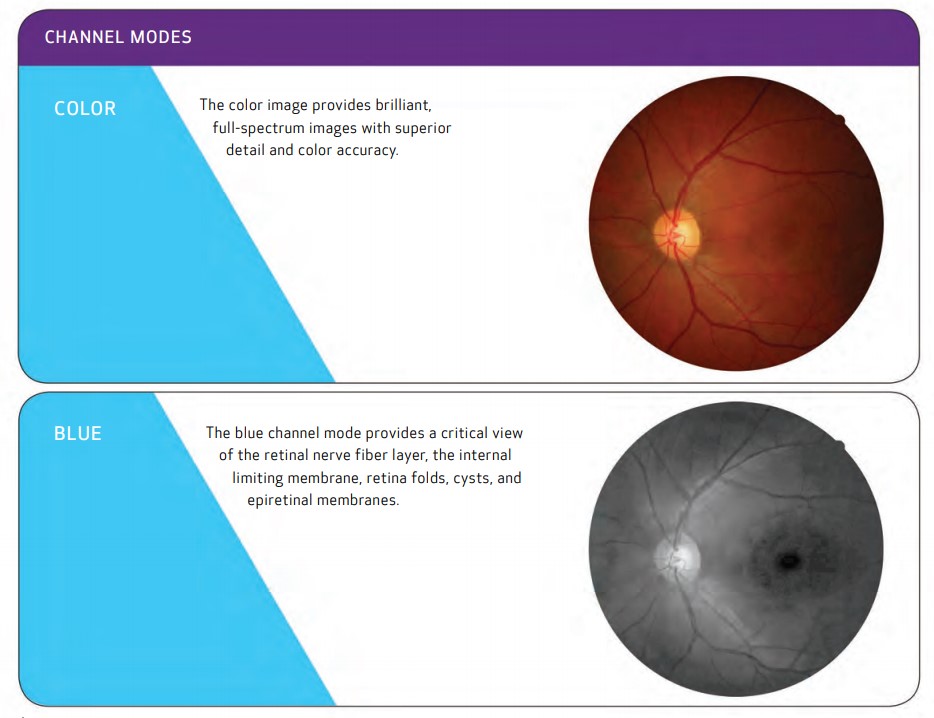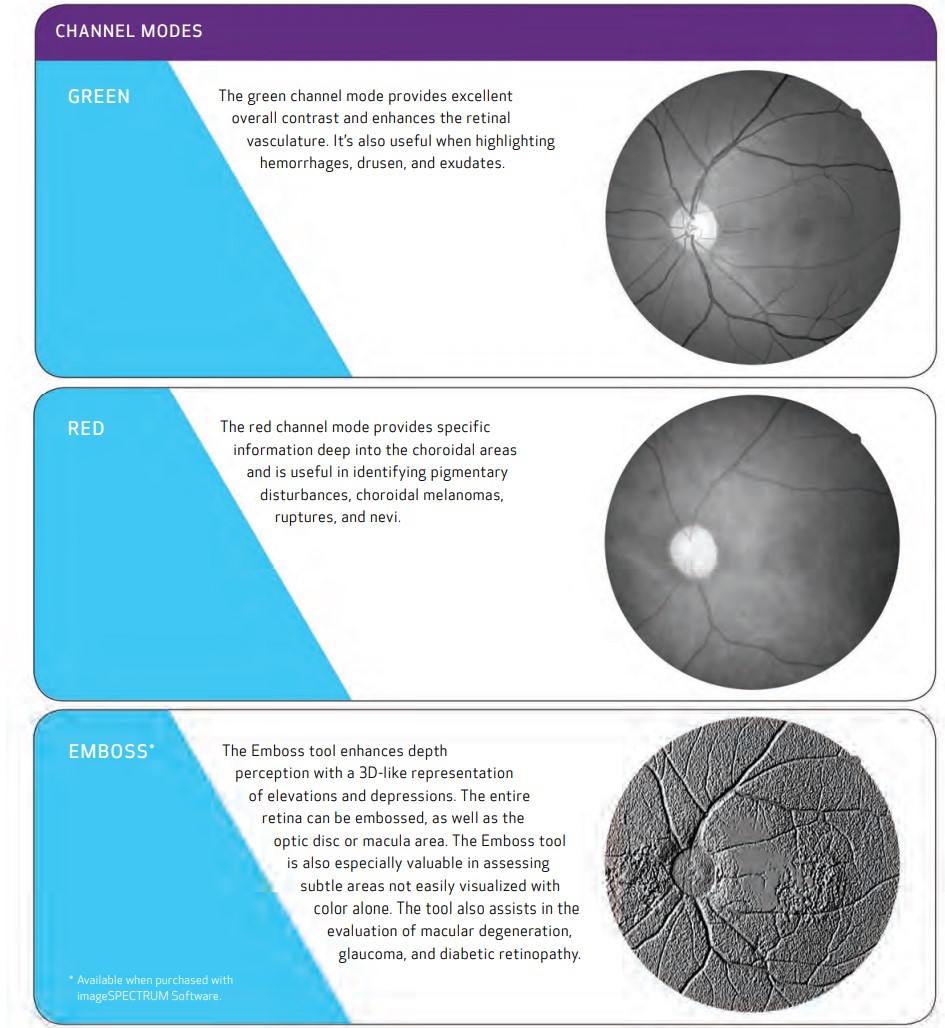 Technical Specifications
General
Type:
Digital Retinal Camera, Non-Mydriatic
Type of Photography
Anterior, Stereo, Color, Digital Red-free, digital cobalt
Angle of View:
45º (35º SP Mode)
Magnification:
2x Digital
Minimal Pupil Size:
4.0 mm (3.3 mm SP mode)
Focus Adjustment Type:
Split-Line Adjustment
Patient Diopter Compensation Range
Without Compensation Lens: -10 D to +15 D
With "-" Compensation Lens: -31 D to -7 D
With "+" Compensation Lens: +11 D to +33 D
Light Source
Observation: LED
Photography: White LED
Canthus Mark:
420 mm From Base
Internal Eye Fixation:
LED Dot Matrix, four programmable patterns
External Eye Fixation:
White LED (Sold Separately)
Working Distance:
35 mm
Working Distance Adjustment
Anterior Observation: Double Image Match Method
Fundus Observation: Working Distance Dots
Sensor Resolution:
20.2 megapixels
Camera:
Dedicated EOS Camera for CR-2 AF
(Bundled)
Monitor
3.0-inch Color LCD Monitor
HDMI port for External Monitor (Optional)
Auto Function:
Automatic Exposure
Mount Movement
Front and Back: 70 mm
Side to Side: 100 mm
Up and Down: 30 mm
Chin Rest Movement:
60 mm
Electrical and Environmental
PC Interface:
USB 1.1, USB 2.0
Power Supply:
AC 100-240 V, 50/60 Hz
Dimensions (H x W x D)
20.2" x 12" x 19.7" (513 mm x 305 mm x 500 mm)
Weight:
43.9 lb. (19.9 kg)