Description
Specifications of the Canon CR-2 PLUS AF NM Fundus Camera
The Canon CR-2 PLUS AF Digital Retinal Camera is designed to help you consistently capture and analyze truly superb images—quickly, efficiently, and automatically. Designed around the legendary Canon EOS optics and advanced CMOS image capture technology, the CR-2 PLUS AF Digital Retinal Camera provides a remarkable set of advanced features specifically designed to enhance, capture, and analyze all fundus images.
Dedicated Digital Camera
Canon is the only brand offering a digital fundus camera that incorporates its own premium front lens, internal camera lenses, and CMOS camera sensor. The result is less chromatic distortion and spherical aberration. This, in turn, allows the camera to provide excellent color reproduction and extraordinary image detail. Reds, greens,  and blues all remain just as Canon intended. And, because the optical pathway is
entirely manufactured by Canon and free of aberration, the CR-2 PLUS AF's digital filter set is able to provide very precise and consistent views of the various layers of the retina.
Ultra High-Resolution Fundus Image
The CR-2 PLUS AF Digital Retinal Camera delivers stunning, high-resolution images—among the highest resolution available in any digital retinal camera today—with extraordinary speed, detail, contrast, and color fidelity.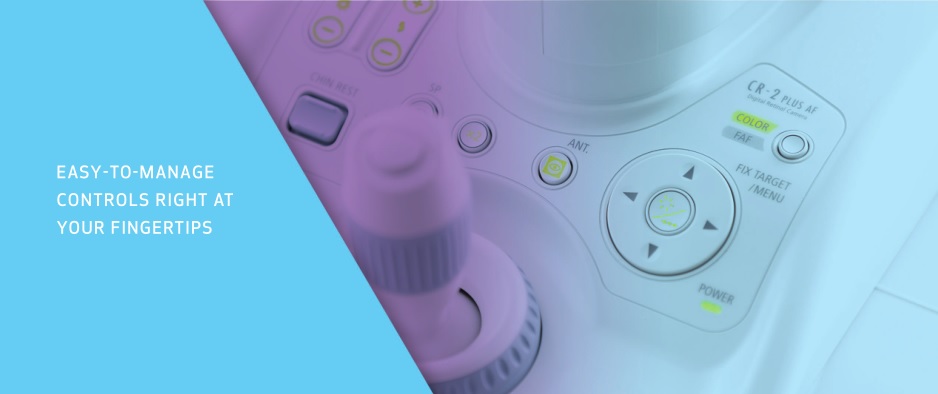 The Canon CR-2 PLUS AF Digital Retinal Camera is extremely flexible and comes with a comprehensive set of standard features designed to help you quickly capture and analyze data. Some of the camera's more notable features include: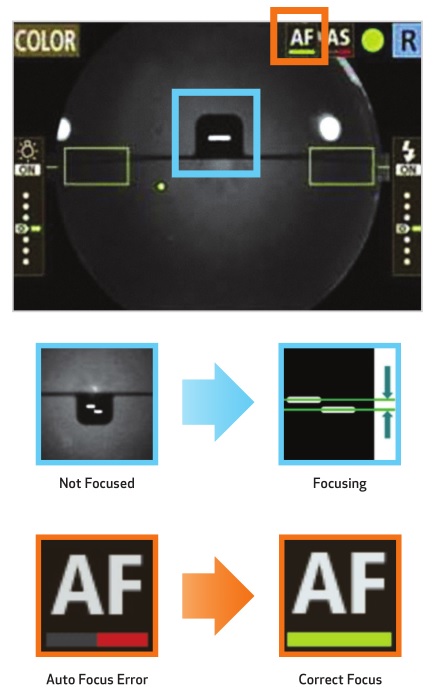 AUTOFLUORESCENCE (FAF) – At the touch of a button, the CR-2 PLUS AF provides instant access to this valuable diagnostic tool, enabling you to document changes in the Retinal Pigment Epithelium (RPE).
AUTO-FOCUS WITH MANUAL ALIGNMENT OVERRIDE – Automatically focus the eye by partially depressing the joystick, or easily switch to manual focus with a twist of the focus ring
AUTO-CAPTURE – Automatically captures the image once the eye is properly focused.
AUTO-EXPOSURE – Automatically measures the volume of infrared light at the retina and adjusts the flash intensity.
AUTO-FUNDUS – Automatically switches from the external eye to retinal observation mode when the eye is properly aligned.
IMAGE ERROR DETECTION – Advanced software automatically confirms both correct alignment and focus.
QUICK PREVIEW – Preview image directly on the dedicated EOS camera immediately after the image is captured.
LOW FLASH INTENSITY – Low flash increases patient comfort and reduces miosis for a faster exam. The CR-2 PLUS AF supports a wide range of low
ISO speeds, including ISO 200/400/800/1600/3200/6400
SEE LIPOFUSCIN BUILD-UP AT AN EARLY STAGE
In the non-mydriatic FAF mode, the CR-2 PLUS AF Digital Retinal Camera enables you to assess and monitor the condition of the Retinal Pigment Epithelium (RPE).
The camera's infrared alignment light allows patients with pupils as small as 3.3 mm to be easily photographed without dilation drops. FAF is especially
effective in identifying and monitoring subtle changes in the areas of lipofusion, even before there's structural change or vision is affected.
These changes may be pre-cursors to vision problems, such as diabetic retinopathy, age-related macular degeneration, glaucoma, and geographic atrophy, among others.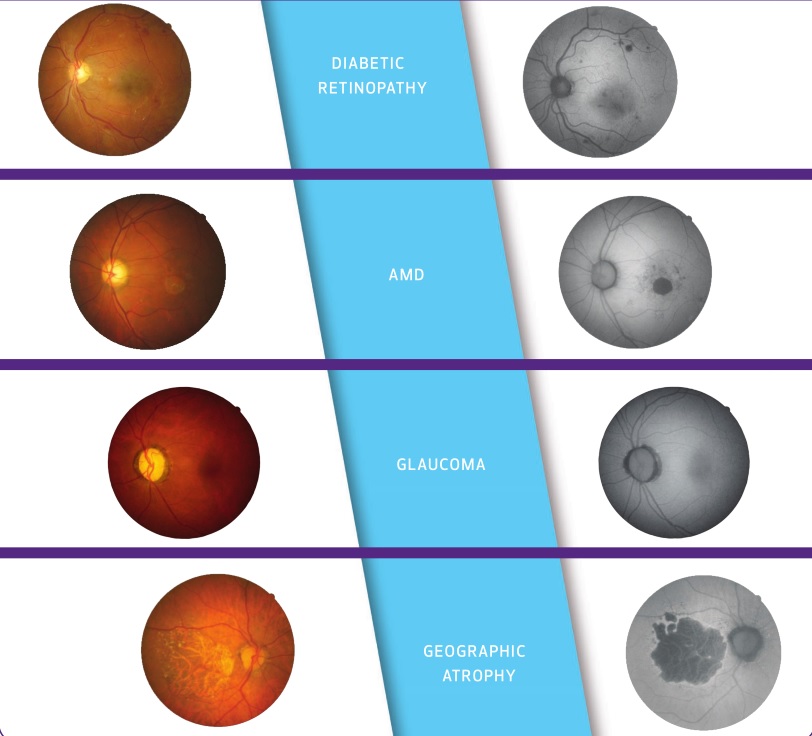 COUNT ON EXTENSIVE DIGITAL FILTER PROCESSING CAPABILITIES
The CR-2 PLUS AF Digital Retinal Camera produces ultra-high-resolution, wide-angle views with excellent color, detail, and contrast. To further enhance your retinal exam capabilities, the camera has a full set of blue, green, and red digital processing modes to extract more in-depth information from each image.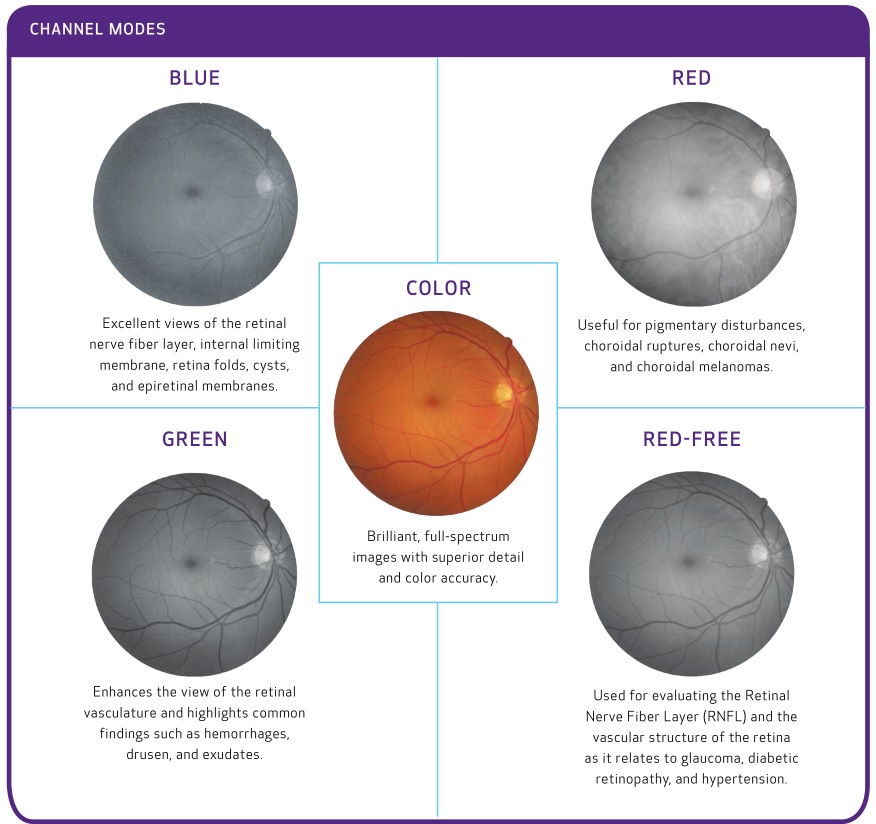 imageSPECTRUM IMAGE MANAGEMENT SOFTWARE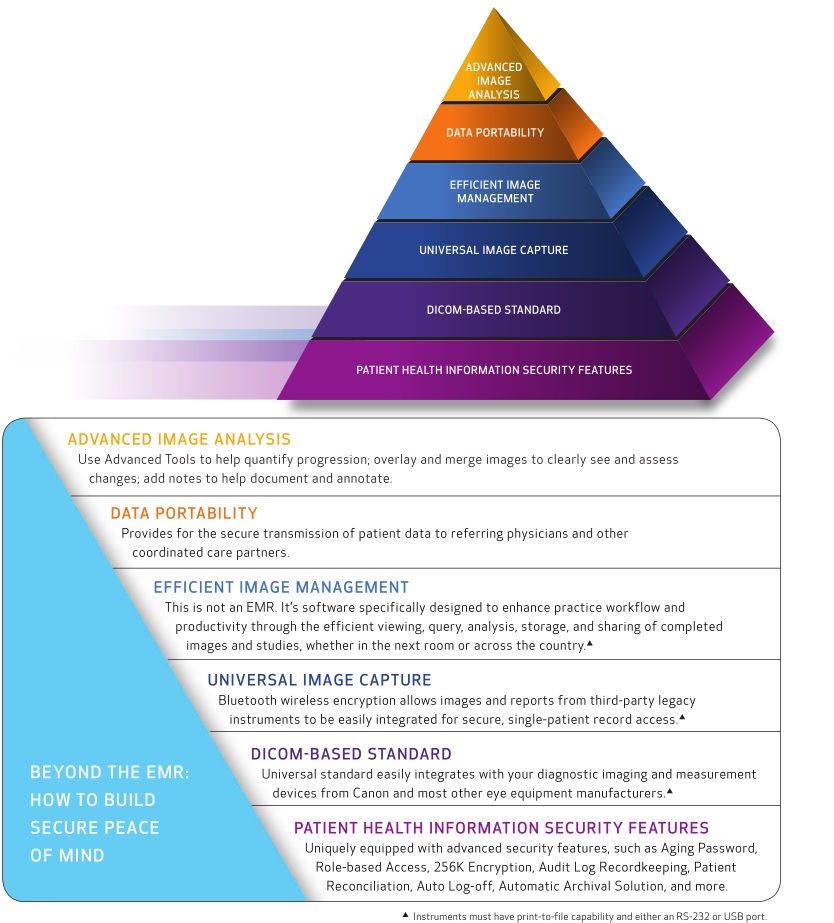 Technical Specifications
General
Type:
Digital Retinal Camera, Non-Mydriatic
Type of Photography
Color, Digital Red-free, Digital Cobalt, Fundus
AutoFluorescence (FAF)
Angle of View:
45º (35º SP Mode)
Magnification:
2x Digital
Minimal Pupil Size:
4.0 mm (3.3 mm SP mode)
Focus Adjustment Type:
Split-Line Adjustment
Patient Diopter Compensation Range
Without Compensation Lens: -10 D to +15 D
With "-" Compensation Lens: -31 D to -7 D
With "+" Compensation Lens: +11 D to +33 D
Light Source
Observation: LED
Photography: Xenon Tube
Canthus Mark:
420 mm From Base
Internal Eye Fixation:
LED Dot Matrix
External Eye Fixation:
White LED (Sold Separately)
Working Distance:
35 mm
Working Distance Adjustment
Anterior Observation: Double Image Match Method
Fundus Observation: Working Distance Dots
Sensor Resolution:
18.0 megapixels or more
Camera:
Dedicated EOS Camera for CR-2 PLUS AF
(Bundled)
Monitor
3.0-inch Color LCD Monitor
External Monitor (Optional)
Auto Function:
Automatic Exposure
Mount Movement
Front and Back: 70 mm
Side to Side: 100 mm
Up and Down: 30 mm
Chin Rest Movement:
60 mm
Electrical and Environmental
PC Interface:
USB 1.1, USB 2.0
Power Supply:
AC 100-240 V, 50/60 Hz
Dimensions (H x W x D)
20.2" x 12" x 19.7" (513 mm x 305 mm x 500 mm)
Weight:
43.9 lb. (19.9 kg)