Description
Specifications of the Canon CR-2 PLUS FAF NM Fundus Camera
The Canon CR-2 PLUS Digital Non-Mydriatic Retinal Camera includes Fundus Autofluorescence (FAF) with a single button press. Using FAF can help the practitioner assess and monitor the condition of the Retinal Pigment Epithelial (RPE) layer.
Key Features
Non-Mydriatic Fundus Autofluorescence (FAF)
FAF helps monitor macular waste (e.g., lipofuscin), which can accumulate in the Retinal Pigment Epithelial (RPE) layer. The accumulation of macular waste can cause conditions such as Age-Related Macular Degeneration (AMD), leading to reduced vision.
Compact and Lightweight
The small design of the CR-2 PLUS facilitates portability when needed using an optional hard-shell transport case. Canon instrument tables (sold separately) may comfortably fit both the camera and computer workstation (sold separately). The space-saving design also allows for use in limited office space environments.
Control Panel
An examiner can easily handle the simplified design of the control panel. The one-hand joystick may position the camera to acquire the desired image. In darkly lit rooms, the operation panel illuminates for easier navigation. The short main body of the CR-2 PLUS provides minimal distance between the patient and the operator, allowing easy access to adjust the patient's position or eyelids.
Dedicated EOS Camera Technology
High-quality diagnostic images are obtained using a dedicated camera for the CR-2 PLUS, which incorporates a large, high-definition CMOS sensor with 18.0 megapixels. When the camera cover is removed, the LCD may be adjusted to various tilted angles to suit the user's point of view.
Digital Filter Processing
Red-Free and Cobalt digital filters are included and provide enhanced screening exams. Red-Free is used for evaluating the Retinal Nerve Fiber Layer (RNFL) and vascular structure of the retina associated with documenting Glaucoma, Diabetic Retinopathy, of Hypertension. The Cobalt filter is also used for evaluating the RNFL and Optic Disc and Optic Disc Drusen. Green (Vascular view) and Red channel (Choroid view) digital filter views are also included.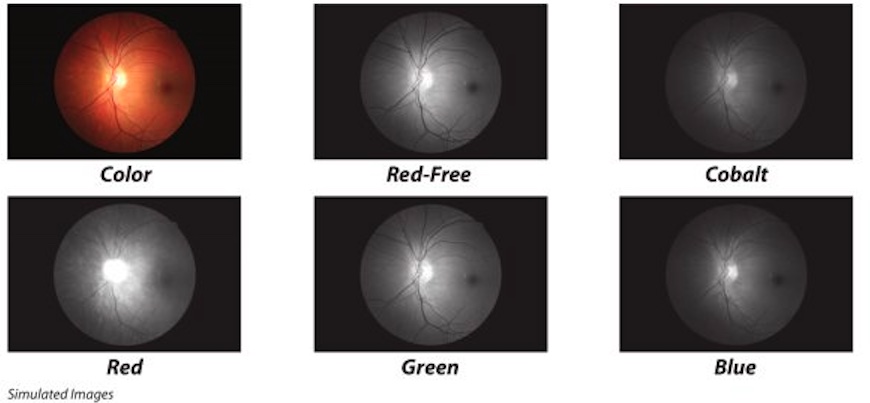 Automatic Exposure Function
The CR-2 PLUS measures the volume of infrared light from the retina and automatically adjusts the flash intensity for observation and photography. This feature may be set to ON/OFF and can be adjusted using the operation panel.
Low Flash Intensity and ISO Sensitivity
The low flash intensity of the CR-2 PLUS minimizes miosis, thus shortening the time required for taking multiple-view exams of stereo images. The reduced brightness improves patient comfort and reduces the "ghost" image the patient sees after exposure. A wide range of low ISO speeds are supported including ISO 200, 400, 800, 1600, 3200 and 6400
Technical Specifications
General
Type:
Digital Retinal Camera, Non-Mydriatic
Type of Photography
Color, Digital Red-free, Digital Cobalt, Fundus
AutoFluorescence (FAF)
Angle of View:
45º (35º SP Mode)
Magnification:
2x Digital
Minimal Pupil Size:
4.0 mm (3.3 mm SP mode)
Focus Adjustment Type:
Split-Line Adjustment
Patient Diopter Compensation Range
Without Compensation Lens: -10 D to +15 D
With "-" Compensation Lens: -31 D to -7 D
With "+" Compensation Lens: +11 D to +33 D
Light Source
Observation: LED
Photography: Xenon Tube
Canthus Mark:
420 mm From Base
Internal Eye Fixation:
LED Dot Matrix
External Eye Fixation:
White LED (Sold Separately)
Working Distance:
35 mm
Working Distance Adjustment
Anterior Observation: Double Image Match Method
Fundus Observation: Working Distance Dots
Sensor Resolution:
18.0 megapixels or more
Camera:
Dedicated EOS Camera for CR-2 PLUS AF
(Bundled)
Monitor
3.0-inch Color LCD Monitor
External Monitor (Optional)
Auto Function:
Automatic Exposure
Mount Movement
Front and Back: 70 mm
Side to Side: 100 mm
Up and Down: 30 mm
Chin Rest Movement:
60 mm
Electrical and Environmental
PC Interface:
USB 1.1, USB 2.0
Power Supply:
AC 100-240 V, 50/60 Hz
Dimensions (H x W x D)
20.2" x 12" x 19.7" (513 mm x 305 mm x 500 mm)
Weight:
43.9 lb. (19.9 kg)