Description
The Optovue iVue is the benchmark for eye care practitioners seeking unmatched OCT performance and value – with capabilities you would expect to cost far more.
At first glance, the iVue® OCT system may strike you as a simplified OCT. Lightweight and modular, you can position it wherever suits your needs.
As for operational ease, from the moment you turn the system on, its familiar slit-lamp-style design makes scanning a breeze. But when you begin looking deeper, at the resulting diagnostic screens, you get a  different picture—the big picture.
Extras are Standard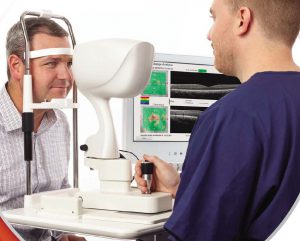 The iVue provides an impressive array of standard features. OCT scanning and resolution are excellent.
Resulting reports for retina, optic nerve head and anterior segment assessment are comprehensive, providing capabilities for which other systems charge extra— if they have them at all.
Some are Optovue exclusives such as FLV% and GLV% analysis and the iWellnessExam® for more personalized patient eye care.
Advanced diagnostic imaging capabilities
The iVue® platform supports highly advanced diagnostic imaging applications off the shelf including retina, optic nerve head and anterior segment assessments.
Ganglion Cell Complex (GCC) – Advanced GCC imaging reveals ganglion cell and axon loss in optic nerve head disease. GCC thickness mapping improves clarity in structural change identification. Optovue's exclusive FLV% and GLV% analyses increase GCC sensitivity and specificity.
3D and En Face – 3D and en face view provides multi-layer, high-resolution virtual dissection of the retina and optic disc, and depicts them in a way that preserves the retina's natural curvature. This reduces distortion for simpler interpretation and enhanced 3D visual assessment.
Cornea Advance – Cornea Advance expands iVue's clinical utility for pre-surgical planning and post-operative assessment. Analysis of the anterior chamber and cornea is  enhanced via anterior segment angle measurements and pachymetry with change analysis.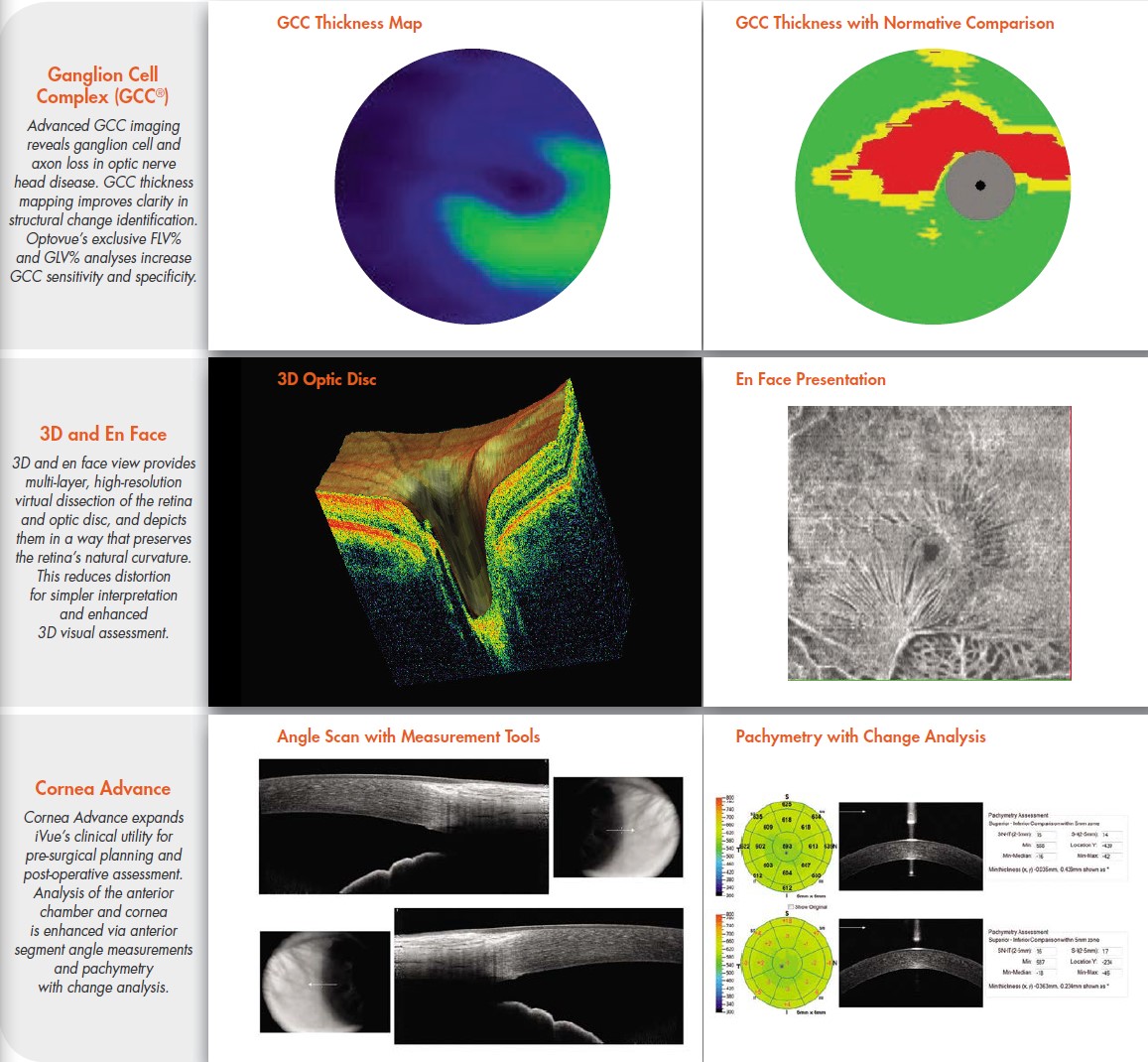 Essential imaging capabilities
Retina mapping and analysis – Retina mapping with normative comparison, retina change analysis and 3D retinal imaging with en face presentation are all depicted in high-resolution, easy to interpret color reports.
Optic disc and RNFL assessment – Advanced capabilities include RNFL and GCC® combination reports with normative comparison as well as RNFL and GCC trend analysis —both standard.
Comprehensive anterior segment analysis – Anterior segment capabilities include highly detailed reports for pachymetry mapping with change analysis and anterior segment angle measurement.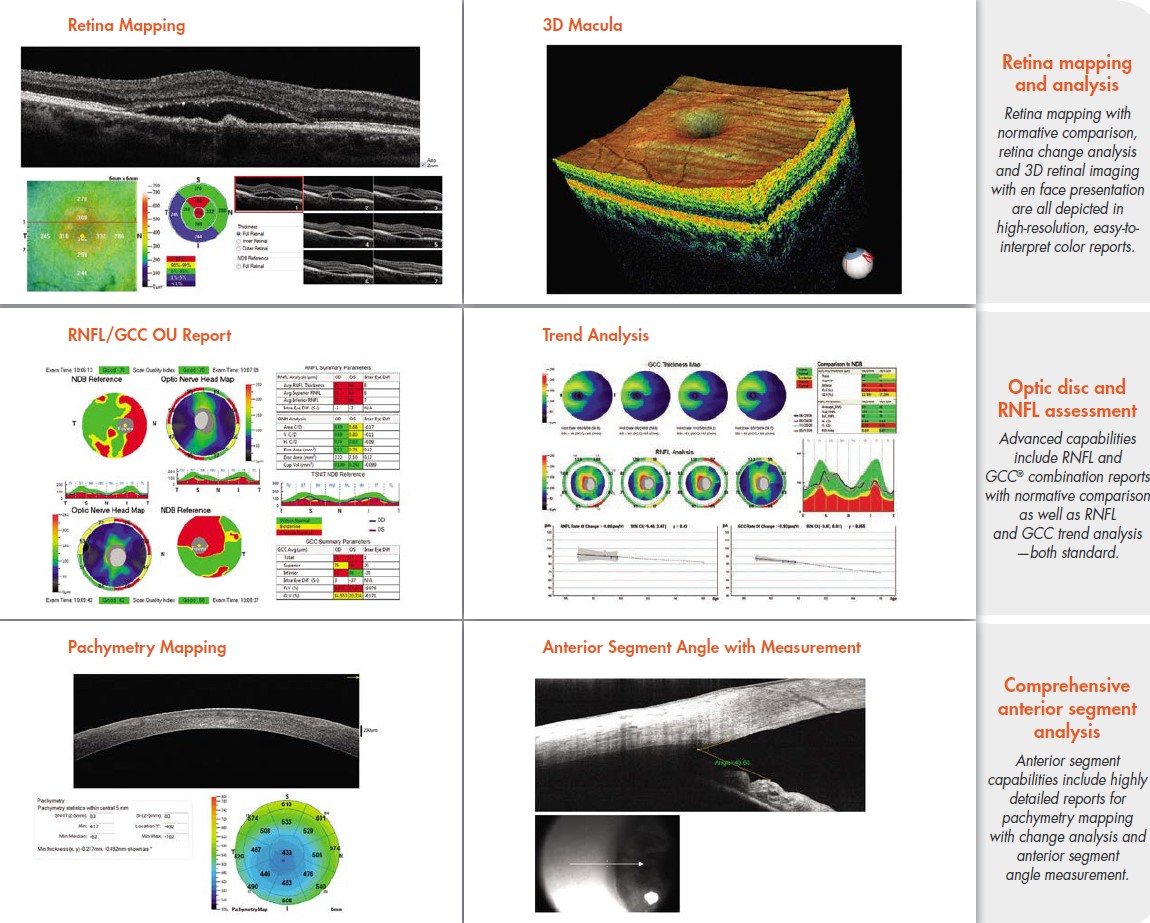 iWellnessExam
The iWellnessExam® is an Optovue exclusive available on all iSeries OCT systems that delivers a quick, easy OCT scan to promote better overall patient eye health.
Its usefulness stems from a single, comprehensive report that depicts:
Retinal thickness and GCC® thickness with normative comparison
Symmetry analysis
FLV% and GLV%, proprietary Optovue GCC metrics that provide important information to aid in ocular disease diagnosis and management
Eight high-resolution B-scans
iWellnessExam benefits patients
Ultimately iWellness benefits patients by helping them become more involved in their own eye health. The scanning process is simple and quick, and each patient receives comprehensive, personalized eye health information in an easy-to-understand report.
iWellnessExam benefits eye care providers
iWellness benefits ECPs by providing a valuable assessment tool that can reveal the need for more extensive imaging. It also streamlines the exam process by quickly confirming normal—or helping you more efficiently diagnose pathology.
Optovue's current iWellnessExam users have affirmed that the iWellnessExam improves patient involvement, loyalty and retention. This helps you grow and differentiate your eye care practice, while also providing a new revenue stream.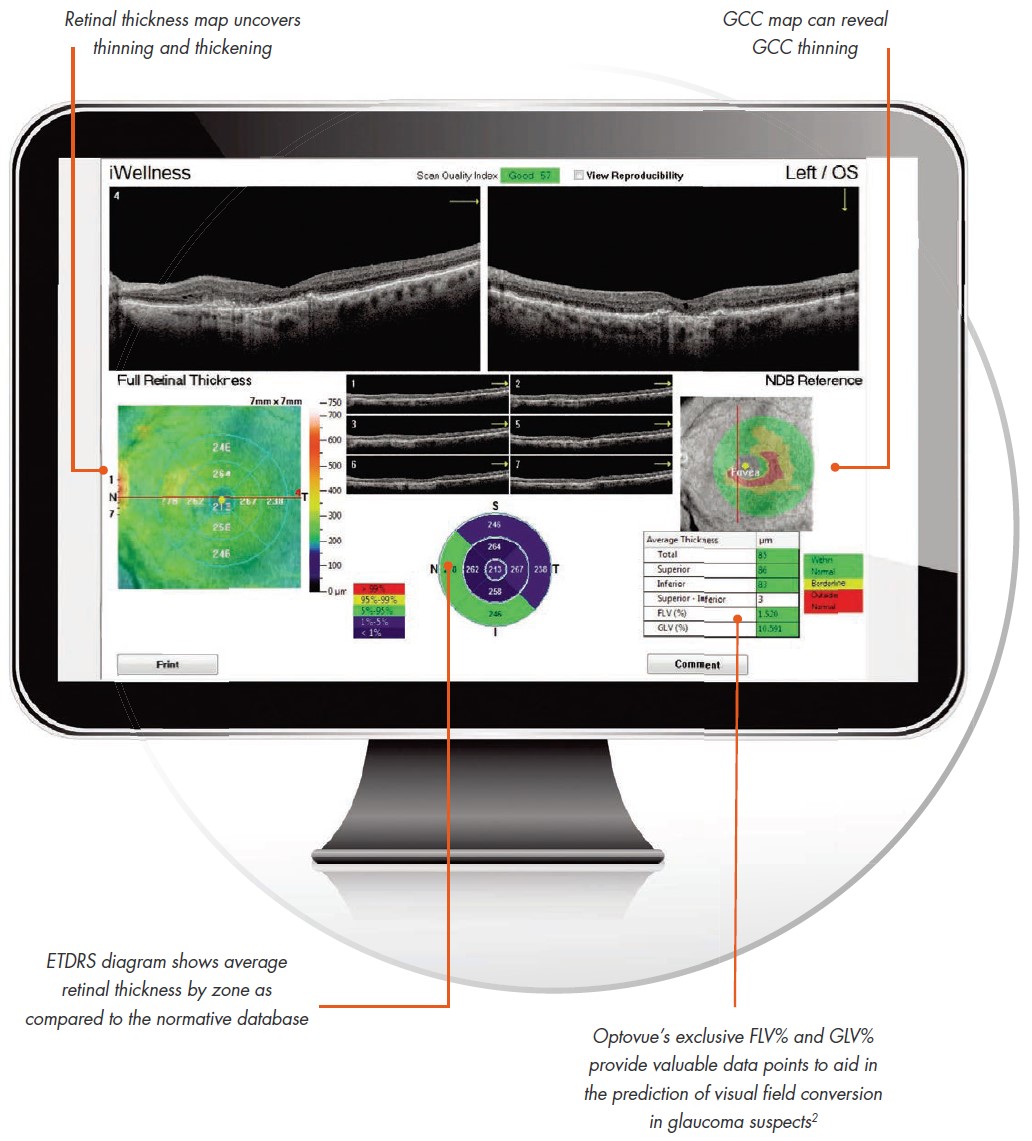 Networking Solutions
NetVue Pro allows viewing and modification of images from a single Optovue OCT system on up to eight review stations. In addition, with NetVue Pro, new patient scans
may be captured while existing scans are reviewed.
NetVue Enterprise enables viewing and modification of images from multiple Optovue OCT systems on up to 20 review stations.
NetVue Web is a browser-based solution that brings Optovue OCT images to a smart phone, tablet or PC.
DICOM. All Optovue products are DICOM compatible.
Technical Specifications Optovue iVue OCT
| | |
| --- | --- |
| Scanner | |
| OCT Image | 26,000 A-scan / second |
| Depth resolution  (in tissue) | 5.0 um |
| Transverse Resolution | 15 um (retina |
| Scan Range | |
| Depth | 2 – 2.3 mm(retina) |
| Scan Beam Wavelength | 840 nm (+/- 10 nm) |
| OCT Fundus Image (En Face) | |
| FOB | (H) 21 deg x (V) 21 deg |
| Minimum Pupil Diameter | 2.5 mm |
| External Image (Live IR) FOV | 13 mm x 9 mm |
| Table | |
| Dimensions (in) | (W)19.1 x (L)34.4 x (H) 263-343 |
| Weight (lbs) | 79 |