Description
Topcon KR-1 Automatic Kerato-Refractometer
The Next Generation of Refractive Care
With its wealth and experience in designing and manufacturing high-performance refractometers since 1951, Topcon has introduced a new model, the KR-1. The KR-1 is more stylish and compact than ever before. The flexible control panel enables the KR-1 to be installed in many positions in the examination room. The KR-1 provides an innovative operation experience and eliminates the need for a control lever. The KR-1 is the new leading refractor-keratometer.
Features
Simple and Quick Operation
R/L fully automated measurement. The KR-1 takes automated operation to a new level. Simple touch the center of the pupil on the touchscreen control panel, and the KR-1 automatically obtain right and left eye information immediately. The KR-1 provides an innovative operation experience and eliminates the need for a control lever.
Easy-to-Use Color Touchscreen Control Panel
The touchscreen control panel eliminates the need for a control lever. All operating procedures can be performed with the touchscreen control panel. The sophisticated buttons provide an intuitive operator experience. The KR-1 automatically measures the right and left eyes quickly and easily.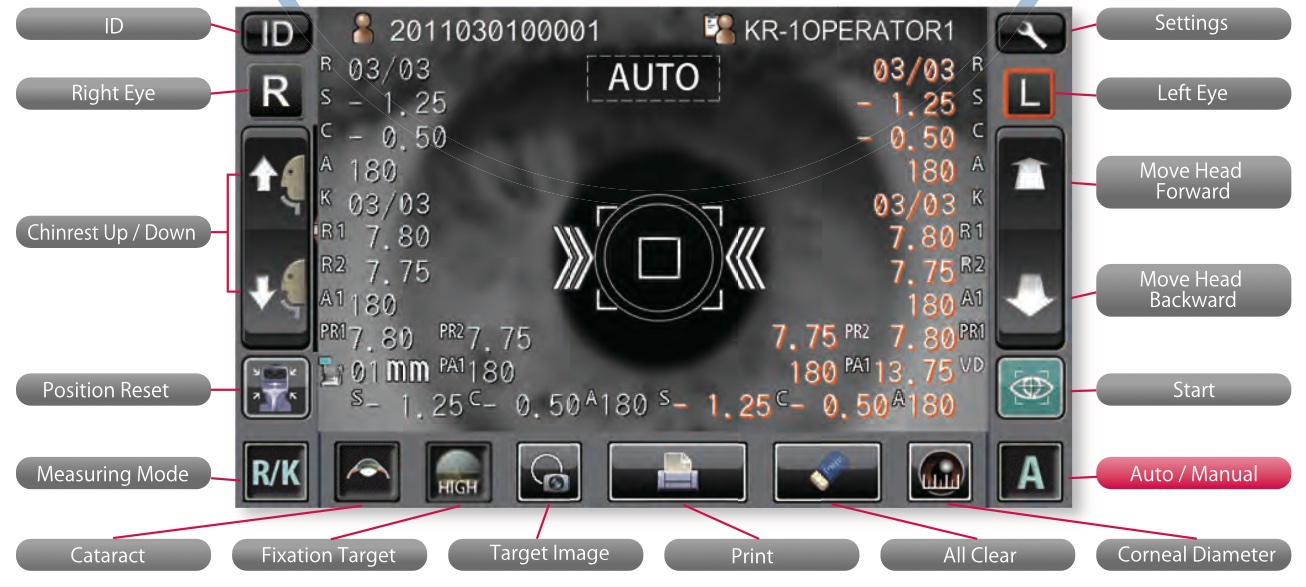 Simple Manual Model (M)
The manual mode features simple operation as well. Automated alignment is performed for Up/Down Right/Left direction; only manual focus is required in this mode.

The difference between the pupil center and the corneal apex allows the KR-1 to take measurements easily.

Flexible and Space-Saving Layout
The adjustable control panel can be positioned in any direction. The adjustable control panel enables the operator to be placed anywhere around a patient because the control panel can be faced in several different directions. The compact body allows the operator to support the patient easily from many different positions during measurement, even when the patient's eyelid needs to be opened. These unique aspects will contribute to saving space and a flexible eye examination room layout.
New Compact and Ergonomic Design
Ergonomic optical head and headrest design. The KR-1's new ergonomic design provides a more comfortable position for the patient with an inclined optical head (5 deg) and a new headrest design. The compact body enables more accessible access to patients.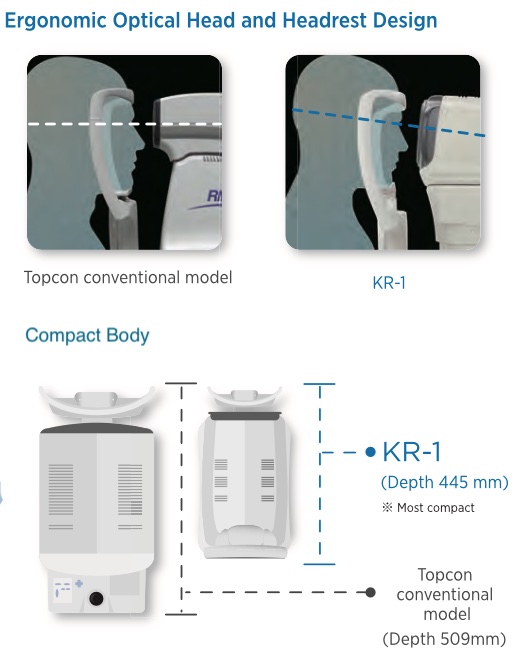 Reliable Measurement
Features Topcon's Rotary Prism Technology for reliable, reproducible results
Peripheral KRT
The KR-1 allows the operator to take peripheral KRT measurements of the corneal curvature radius and inner KRT ring measurements, which is helpful in corneal evaluation for contact lens fitting.
Rotary Prism Measuring System
With Topcon's exclusive Rotary Prism Technology, the KR-1 also provides unmatched accuracy and reliability. The innovative optical design incorporated into the KR-1 allows for accurate and reliable measurements with the pupil as small as 2 mm.
Specifications