Description
This Used  Topcon OCT 3D Model 2000 includes:
Topcon OCT 3D Model 2000
Table
PC  with Monitor and Mouse
6 Months warranty
Setup and Training
Topcon OCT 3D Model 2000 Specifications
The Topcon 3D OCT-2000 Series is an optimal choice for all eye care professionals.
The 3D OCT-2000 Series of spectral domain OCTs with high-resolution fundus cameras have been designed to meet the needs of a comprehensive fundus imaging device for all eye care professionals from the single doctor practice to a large university hospital.
Features
Compare function: follow-up treatment
Wide scan 12×9 mm: perfect overview capture
Unique all-in-one OCT & fundus camera: patient-friendly, provides easy workflow
Small footprint: space saving
High-resolution images: OCT, true color fundus and red free
Intuitive workflow: user friendly
Normative database: easy comparison
Glaucoma & Drusen analysis module: disease management and comprehensive screening
Auto focus, auto shoot, speed of capture: user and patient-friendly
Full network support
IMAGEnet i-base connection
Sophisticated OCT technology with Integrated Fundus Camera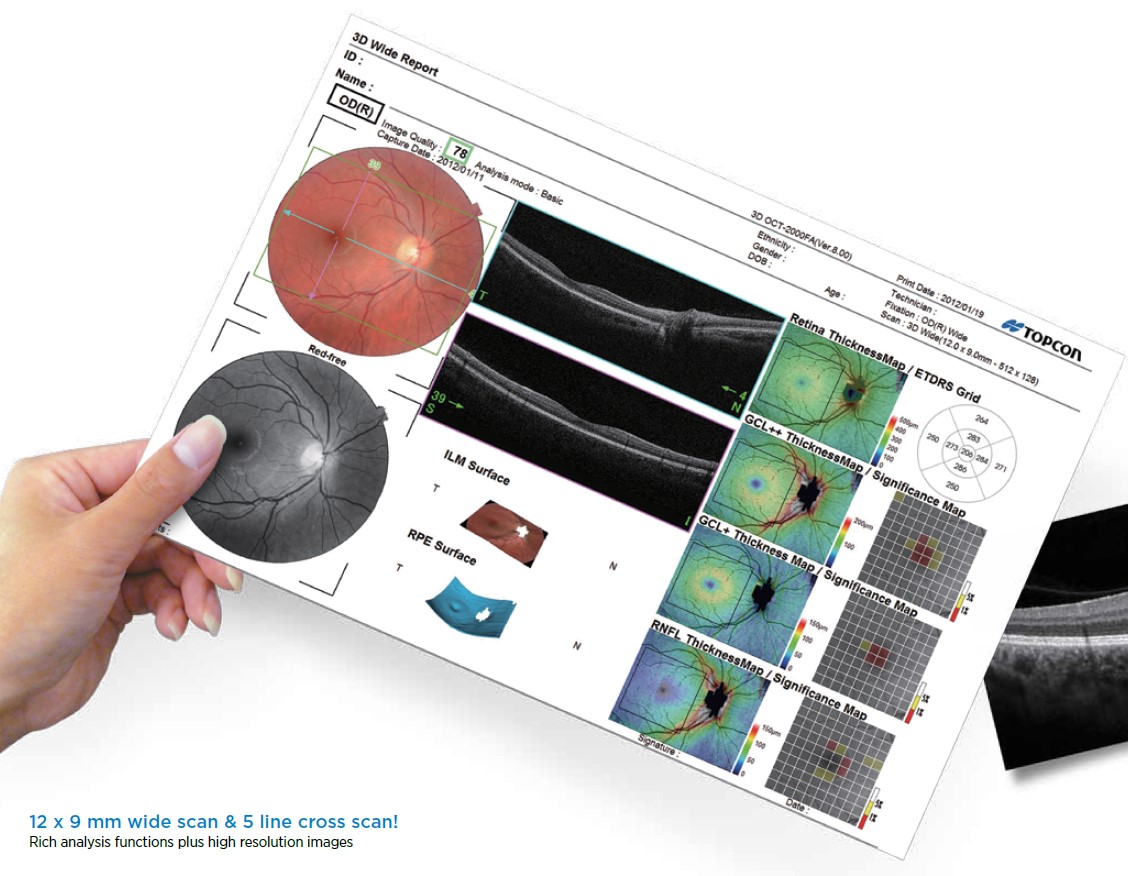 50,000 A-scans/sec – Greater details in a shorter time
The enhanced 50,000 A-scans/sec allows for faster tomography acquisition and is available to produce clear cross-sectional retinal images.
Now there are even more imaging variations with the new 12×9 mm wide scan enabling the user to capture a wider area of the retina from the optic disc to the macula with a single shot. The 5 Line Cross Scan can also be a perfect solution for detailed screening and quick follow-up.
Moreover, Topcon's "Enhanced Choroidal Mode" visualizes other internal structures, allowing much superior visualization of the interface between the choroid and sclera.
Data Analysis is now selectable from 2 formats – Fine of Basic, and can be performed fast or in detail according to your purposes.
Stunning retinal images with an integrated high-resolution retinal camera
Combining OCT and color fundus camera in one unit, the Topcon 3D OCT-2000 line-up is perfected now with FA and FAF photography functions. Furthermore, digital Red-Free images can be displayed easily at the touch of a button.
Due to flexibly changeable ISO sensitivity, reduced flash level with crystal-clear fundus observation is available, reducing patient fatigue and miosis.
If the OCT image is only required, select "Color Photography OFF."
3D OCT-2000 Designed to Provide Highly Accurate Data
Auto disc search function

Automatically detects the disc center referring to the IR image. Tracking the disc center position contributes to better accuracy and scan positioning when circle scanning.

Auto disc center detection

After 3D scanning, the disc center is automatically detected.

Measurable scan range

6×6 mm                   512×128
4.5×4.5 mm           256×256
3.3 mm                    256×256

Motion correction / Compensation / rescanning function

Motion correction – Corrects the Z direction movement.
Compensation function – Tracks the ocular and compensates the X direction movement.
Rescanning function – The scanning area may be missed due to Y direction movement. In such a case, the rescanning function automatically activates.

Auto fovea center detection

The 3D OCT-2000 Series can also automatically center the fovea to ensure accurate reporting and analysis.

IR Tracking

IR tracking utilizes the IR image during capture to overlap precisely the same place on the retina. If the scanned area moves, the rescanning function automatically refers to the first scanned image.
More information: