Description
Great walk through video here:
Specifications of the Nidek AFC-230 NM Fundus Camera
NIDEK delivers the innovative non-mydriatic digital fundus camera that integrates every function required for easy retinal screening. Customized built-in functions of the NIDEK AFC-230 improve the quality and efficiency of medical examinations.
High Quality Retinal Imaging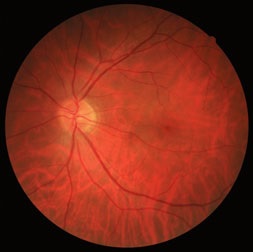 Integrating the innovative imaging optical system, this technologically advanced AFC-230 realizes digital fundus imaging of high resolution and fine gradation. The fine gradation provides clear
and detailed display of the entire fundus image from the light optic disc to a darkened disease area. With noise greatly reduced, the system offers retinal photography with minimum flash
exposure allowing quick and efficient fundus photography of both eyes, thereby minimizing patient discomfort.
With advanced optical system with large sensor, the AFC-230 offers high quality image at 45° field view.
First Non-Mydriatic Camera with Auto Tracking & Auto Focus
NIDEK's advanced auto-tracking technology allows easy and accurate capture of the anterior corneal center. Also, the auto focus system provides automatic switching from anterior to retina, realizing high-performance focusing without touching the joystick. Also included is the unique auto-chinrest feature.
High-Performance Retinal Image Filing System – NAVIS-Lite
The AFC-230 system incorporates the sophisticated and user-friendly data filing software – NAVIS-Lite – allowing easy patient data management.
Key Features of NAVIS-Lite
Images that are automatically imported from the AFC-230 are sorted by patient name.
Easy-care pathway protocols in place for displaying patient information.
Sophisticated imaging functions are incorporated, including Image Processing, Drawing,
Measurement, and Panoramic Imaging for large field analysis.
Flexible print layout display for patient reports
Data back-up function
Images easily exported
Email function is accessible allowing message text with image file attachment
The data can be transferred to a DICOM (Digital Imaging and Communications in Medicine) 3.0 compatible server (Optional).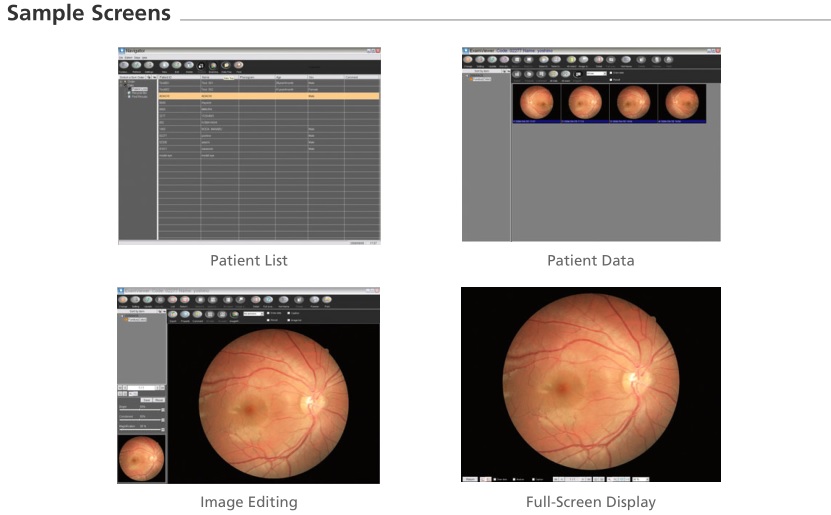 Accurate Anterior Eye Observation before Photography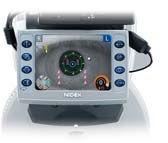 The AFC-230 integrates the 5.7-inch TFT LCD (640 x 480) monitor in addition to the special optic system, CCD camera and high resolution monitor for anterior eye observation, allowing  accurate confirmation of the anterior eye status (blepharoptosis, in-growing eyelashes, nystagmus, cataract, corneal disorder, etc). This assures high quality retinal photography.
Flexible Field Angle
Without an adapter, the AFC-230 can provide detailed image of smaller field of view in high quality by utilizing full frame 35mm in 45º field of view.
Unique Blink Control
With the automatic blink detection, the AFC-230 automatically stops the photography when the patient blinks.
Anterior Eye Photography Mode
When pressing the button for anterior eye photography, the AFC-230 automatically switches its mode and provides clear anterior eye photography.
Smaller Pupil Diameter Mode
In addition to the regular minimum Pupil Diameter ø4.0 mm, the AFC-230 is also highly capable of detecting a smaller Pupil Diameter – Minimum 3.7 mm. When the patient's Pupil Diameter is detected to be smaller than the required 4.0 mm, the AFC-230 automatically switches its mode to the ø3.7 mm smaller Pupil Diameter mode.
High-Speed Image Transfer to a PC
Connection to a PC through USB 2.0 allows quick and easy transfer of the images. The data can also be saved in an outside electronic chart system through the NAVIS-Lite.
Ergonomic Design for Easy Operation in
Darkened Room
Layout of buttons, the lever and the dial is ergonomically designed to allow intuitive operation. The operator can focus on photographing even in a darkened room.
Compact Body
All necessary functions are integrated into this compact body, offering greater portability
Specifications