Description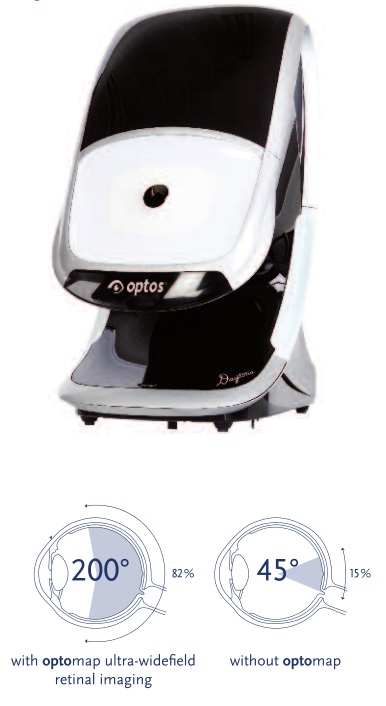 Only Optos ultra-widefield technology can capture a 200° view (or 82%) of the retina in a single, high resolution optomap ® image in less than ½ second.
Daytona offers autofluorescence imaging with green laser light and 3-in-1 Color Depth imaging ™ . Unlike white light, low powered laser wavelengths scan simultaneously allowing review of the retinal substructures in their individual laser separations:
Color.
Sensory (red-free).
Choroidal.
Images are displayed in a consistent geometry which accurately represents anatomical features across the retina. Automatic image registration enables pixel to pixel comparisons of images across modalities and from visit to visit.
Features
Non-mydriatic, non-contact imaging through 2 mm pupils and many cataracts.
High image resolution shows fine detail across the retina (optic disc, macula and periphery).
Autofluorescence imaging with green laser light displays lipofuscin in the RpE.
Eyesteering further extends the field of view past the vortex vessels, in some cases.
Stereo disc imaging.
3D Wrap ® for patient education.
DiCOM compatible.
Innovative software tools enhance image evaluation.
Images are available immediately and stored electronically for future comparison or for use in telehealth applications.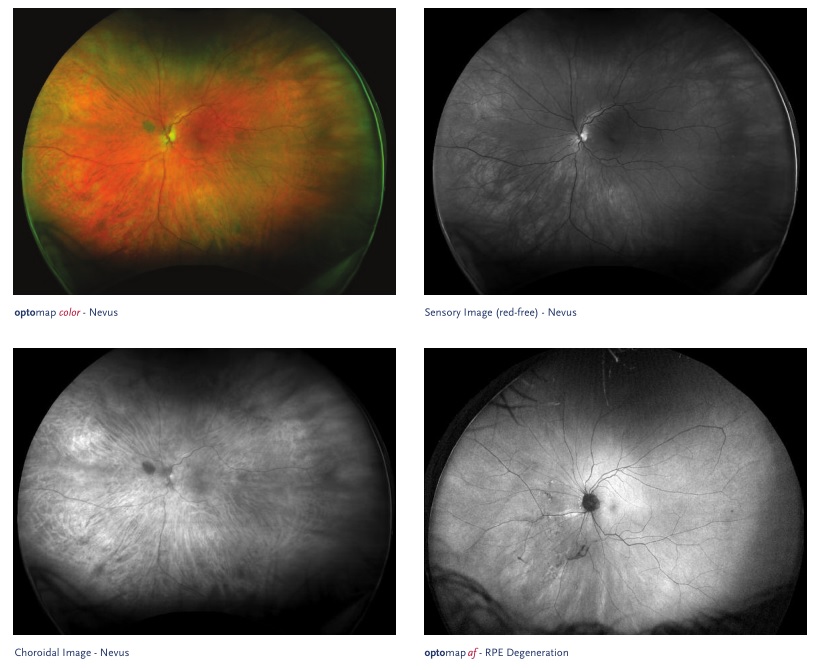 Benefits
– Improves Practice Efficiency and Economics: Studies show that optomap images are faster to capture and easier to review than traditional patient examination techniques 1, 2 .
Optomap enables practitioners to differentiate their practice and an additional revenue stream can be generated.
– Enhances Clinical Decision-making: Early signs of many ocular pathologies and diseases may first present in the retinal periphery and can go undetected using conventional techniques and equipment.
More than 400 published and ongoing clinical trials as well as thousands of case studies and testimonials show the long-term value of optomap imaging in diagnosis, treatment planning and patient
engagement.
− Helps Prevent Vision Loss through Technological Innovation: optomap technology can image pathology past the vortex vessels, helping practitioners find disease sooner and manage it more effectively.
Technical Specifications
General
Trade Name
Daytona
Model Name
P200T
Imaging Modalities
Color
Sensory (red-free)
Choroidal
Autofluorescence af
Resolution
optomap: 20 um
optomap plus: 14 um
Wavelengths
Red Laser: 635 nm
Green Laser: 532 nm
Exposure Time:
Less than 0.4 seconds
Footprint
Width: 440 mm/18 in
Depth: 500 mm/20 in
Height: 795 mm/32 in
Weight
28 kg / 62 lbs
Laser Class
Laser safety class-1 following EN60825-1 and 21 CFR 1040.10 and 1040.11
Communication Protocol
DICOM Compatible