Description

Main Features
True Color Fundus Images

High quality Sensor using proprietary technology

Easy to Navigate

Fully automated fundus photography
Intuitive touch screen control panel

Space Saving

Rotating touch screen control panel
Compact and modern design

Versatile and Simple Operation

DICOM and various connectivity
Fully Automatic Mode
In fully auto mode, Alignment, Focusing, Shooting and movement between right eye and left eye are operated automatically. Any operator can use without practice. An operator simply touches the screen to select a mode, touches the center of the pupil and presses "Capture START". Providing consistent quality results no matter who the operator.

Manual Operation Mode
In manual mode, the operator can drive the camera using the touch screen as if via the Control lever. This is particularly useful in cases where auto mode is not possible or a specific area of the fundus requires illustration. In manual mode alignment is adjusted by finger touch on the screen and illumination, flash intensity, diopter adjustment and internal fixation targets, etc can be adjusted.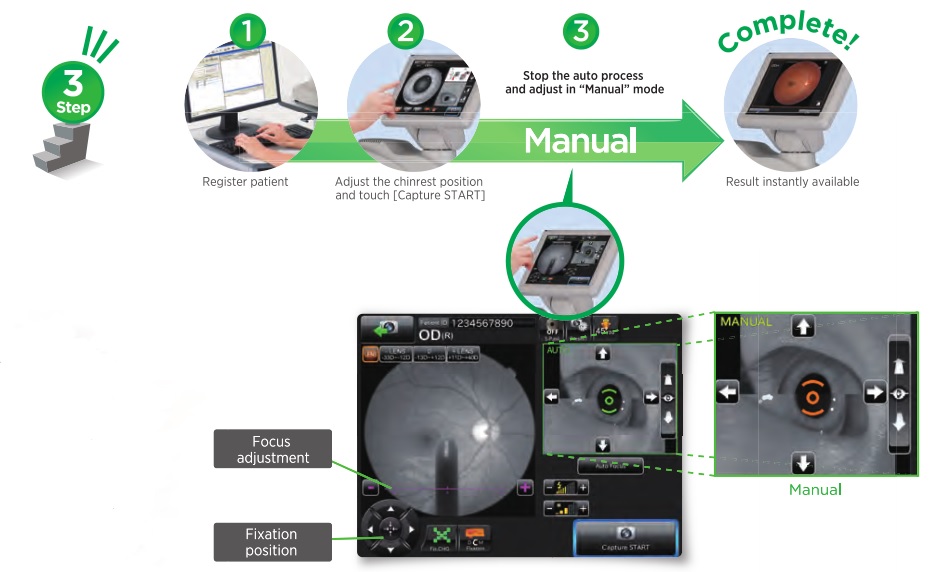 Space Saving
The TRC-NW400 incorporates a rotating touch panel monitor that allows the operation of the instrument from virtually any angle. This feature lets the photographer be in front, behind or at either side of the patient, optimizing space saving. The TRC-NW400 can comfortably be operated when located against a wall or in a corner.

Stereo Photography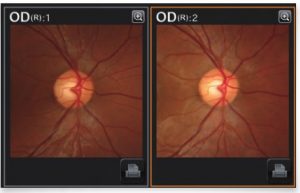 In Stereo photography mode, the alignment for a stereo pair is performed automatically. Following the prompts on screen a stereo pair for stereo viewing can be quickly and easily acquired.
Remote Connectivity
The TRC-NW400 has remote access capability. To allow uninterrupted operation of the instrument, technical support specialist are able to connect remotely to the camera via an internet connection for updating the version or checking the status, etc.
Internal Fixation Operation
The Traditional 3 fixation targets (Disc, Center and Macula) as well as the 9 fixation target for peripheral photography are incorporated.

Small Pupil Photography & Zoom Function
The TRC-NW400 enables the user to acquire retinal images with pupils as small as 3.3 mm, with assistance functions as small pupil aperture, digital zooming function and overlayed mask. When the "small pupil mode" is selected, the camera will automatically adjust for small pupils.
Anterior Photography

Handy anterior photography function allows for quick documentation of external conditions of the eye surface and cornea.
High Sensitivity and Low Flash
For patient comfort and compliance, a low 4.0Ws flash intensity is normally utilized, producing excellent images with low flash and reducing patient's stress.
Connectivity
TRC-NW400 is incorporated with USB and LAN interface allowing flexible storage solutions.
Direct DICOM
The TRC-NW400 is DICOM compliant making it easy to integrate within PCS and EMR programs.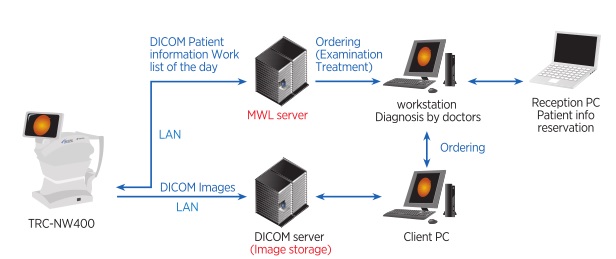 Shared Folder
The TRC-NW400 can save images into a shared folder on a network. By using shared folder, the third party's system can retrieve the images from TRC-NW400 and save them into their system.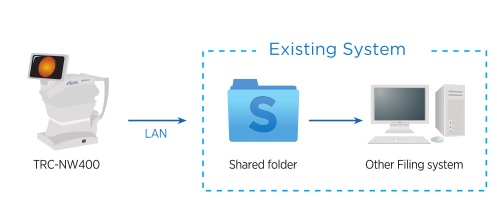 IMAGEnet
IMAGEnet is Topcon's ophthalmic data system that allows you to manage TRC-NW400 and data from other modalities.
IMAGEnet web-based viewer allos you to access IMAGEnet images through other filing software via your internet browser.

Specifications for Topcon TRC NW400
Observation & photography of the fundus
Angle of coverage
45/30 or equivalent (digital zoom)
Working distance
34,8 mm ( in fundus photography)
Pupil diameter for photography
45:  4.0 mm or more
Small pupil diameter: 3.3mm or more
Fixation target
Internal fixation target:

Dot matrix type organic EL
The display position can be changed and adjusted
The displaying method can be changed.

Peripheral fixation target

This is displayed according to the internal fixation target displayed position.

Patient Diopter Correction Range
Without the diopter compensation lens
-13D to +12D
When the concave compensation lens is used
-12D to -33D
When the convex compensation lens is used
+11D to +40D
Power Source
Source Voltage
AC100-240V
Power Input
120VA
Frequency
50-60Hz
Dimensions and Weight
Dimensions
272-383 mm(W) x 464-660mm(D) x 512-700 mm(H)
Weight
18 kg
More Resources for Topcon TRC NW8 Fundus Camera
Topcon TRC NW8 – Fundus Camera – Retinal Camera