Description
Specifications of the Visucam Pro NM Fundus camera  – Non-Mydriatic
Simplifying Photography
The VISUCAMPRO NM increases the quality and simplicity of fundus imaging. This compact device features a unique combination of functions, enhances fundus visualization and documentation, and sets the standard in ophthalmic photography. The VISUCAMPRO NM provides leading-edge performance enabled by the following benefits:
Optical brilliance
Legendary ZEISS optics and the integrated digital image sensor with 5.0 megapixels.
Work in total comfort
Focusing and positioning aids, software guidance, intuitive operation, and real-time display on a flat-screen monitor.
Auto flash mode
Every image is correctly illuminated, regardless of pupil size and retina type.
Small pupil capabilities
Non-mydriatic image capture of fundus imaging through the smallest pupil size in the industry.
All-in-one approach
High-quality ZEISS fundus imaging in a compact system:
Highly corrected ZEISS optics with an advanced professional-grade digital sensor
Integrated computer and database, including multiple options for image comparison and review
Quick image transfer via network, USB stick or DVD.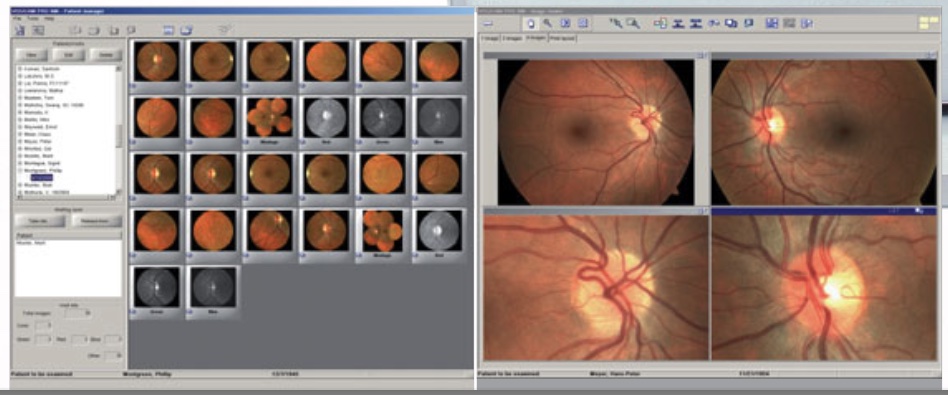 Image is Everything.
ZEISS optics
The demonstrated quality of ZEISS optics assures that your image will give you the sharpest detail.
5.0 megapixels images
The pixel count and optimized signal processing enable outstanding quality in image documentation.
45° and 30° images
The system features the ophthalmoscope principle incorporated in modern fundus cameras, and the two field angles 45° and 30°.
Different capture modes
Green, red and blue images are all possible either as separate photos or as a subsequent RGB layer of a color photo.
Stereo image mode
The stereo mode features easy capture and operation.
Fixation mode
A single click suffices to switch between external and internal fixation.  The internal targets are either freely positionable in different sizes or follow programmed sequences.
Zeiss Automap
Structured montages are automatically produced of peripheral photos.

Optimized practice efficiency.
Everything is integrated
The VISUCAMPRO NM offers a full performance spectrum – from image capture to image documentation – in a single, state-of-the-art system featuring all hardware and software required.
Everything is simple
Easy operation ensures a smooth, rapid workflow for the user. The system's many excellent benefits include:
• Customized software settings
• Positioning aid with working distance dots
• Focusing aid with paired coincidence lines
• Panorama mode for automatic image montages
Everything is visible
Visual overview and assessment are always possible in every examination phase – thanks to the 17″ flat screen monitor. The path from the live focusing image to the digital document is short. When captured, the image immediately appears on the monitor and is automatically stored.
Everything is possible
With its excellent image quality, VISUCAMPRO NM is the perfect solution for studies. The 7-field mode, the 30° field angle, and 3D images are integrated for this purpose.
Everything is reliable
Specifications for Zeiss Visucam Pro NM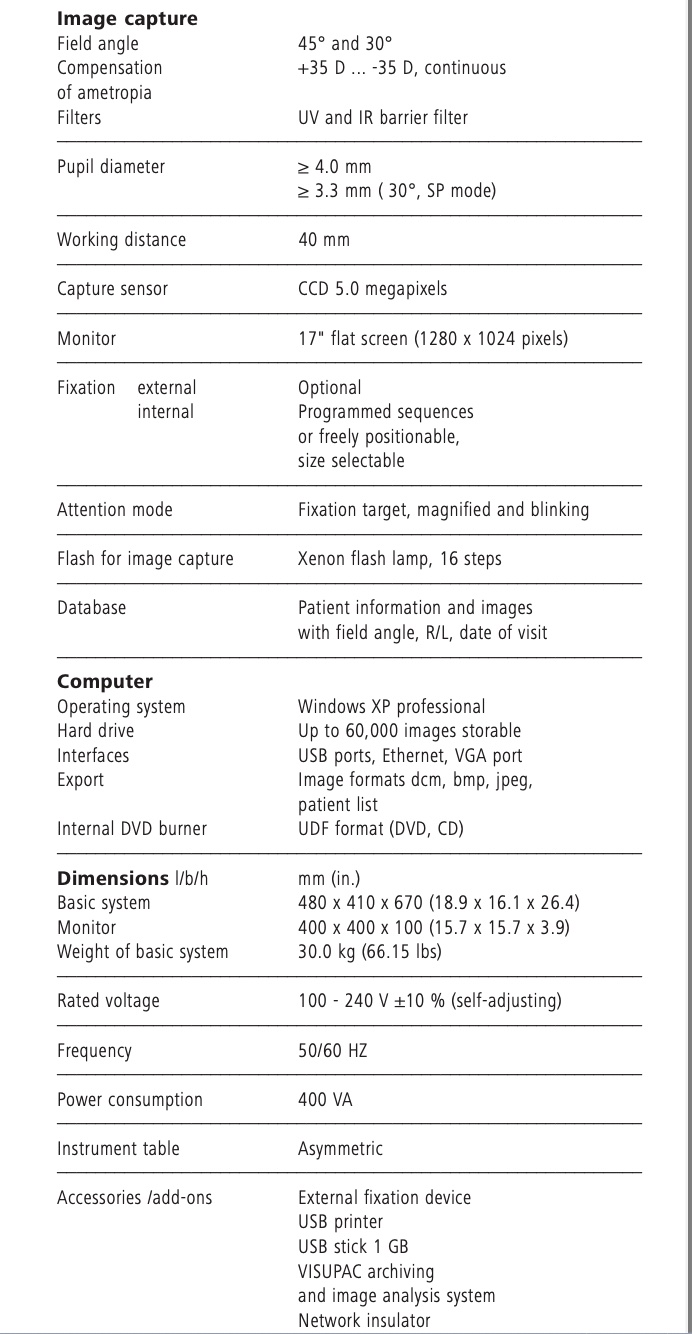 More Resources for Topcon TRC NW8 Fundus Camera
Topcon TRC NW8 – Fundus Camera – Retinal Camera